The 2016 ANAS Annual Meeting in Las Vegas, Nevada
Saturday April 16, 2016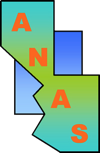 Incorporated in 1956, the purpose of The Arizona-Nevada Academy of Science is to stimulate scientific research and education; to disseminate scientific knowledge in the various fields of science; to promote fraternal relationships among those engaged in scientific work; to assist in developing and in making known the material and other resources of those two states; to encourage the publication of reports of scientific investigations; and to unify the scientific interests of the region.
The Annual Meeting of the Arizona-Nevada Academy of Science will be held in Las Vegas, NV on Saturday, April 16, 2016.
Visit the information page for this event.

Meeting Date: Saturday April 16, 2016
Meeting Location: College of Southern Nevada, West Charleston Campus, Buildings H and I 6375 W. Charleston BLVD, Las Vegas NV 89146
Discounted Room Block for Friday Night April 15, 2016: 15 rooms reserved at Arizona Charlie's Decatur
740 S. Decatur BLVD, Las Vegas NV 89107
Room Rate: $61.60
To receive the discounted rate you must contact the following reservation number and give the representative the group code and name.
Group Rate Reservation Number: (800) 342-2695
Group Code: C-AOS16
Group Name: Arizona-Nevada Academy of Science
The ANAS membership dues support science education in Arizona and Nevada through awards, grants and scholarships for outstanding K-12 science teachers; and for high school, undergraduate, and graduate students.